Since 2008 Toombs County High School has had two state tourney match ups with Calhoun and both times the Yellow Jackets prevailed. In a 2008 Elite 8 football game, in Calhoun, the Yellow Jacket beat the Bulldogs 41-14. Then in a 2010 quarterfinal best of three, in Lyons, the Calhoun baseball team swept TCHS 7-0 and 6-1.
That Yellow Jacket run has finally ended, in the first round of the GHSA AAA Team Dual Wrestling Championship at the Macon Centreplex, with the Bulldogs coming from behind to beat Calhoun 40-34.
"We made a move that we thought would help us and we got caught in a headlock," head coach Bradley Benton said. "Those things happen and we got pinned and it put us behind the 8-ball. It was back and forth all the way through the lineup. We were down by six with two matches to go and we got two tremendous performances from freshman Jonathan Morales and junior Oren Morgan. Morales was down 9-3 and he put the guy on his back and pinned him. Oren was down by four or five points and he pinned the guy. It was just unbelievable that kind of comeback effort. I just haven't seen anything like it."
The Bulldogs will wrestle Lumpkin County (75-6 winner over Jordan) on Friday at 8 a.m. and then if they win they will probably take on powerhouse Jefferson at 3 p.m. If the Dawgs lose to Lumpkin they will drop down to the losers bracket and take on Spencer on Friday at 11:30 a.m.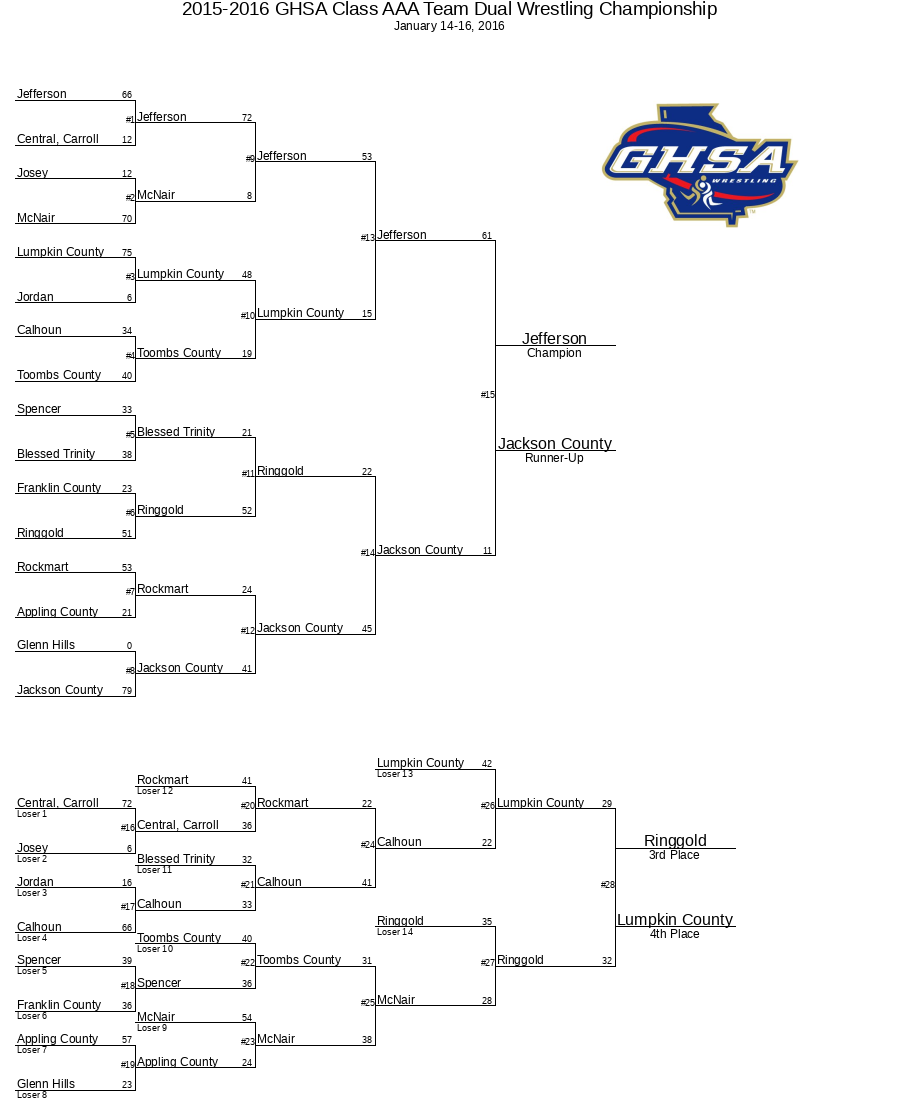 2014- Bulldogs battle "Mighty" Jefferson
The Jefferson High School wrestling program has won 13 straight GHSA Traditional and 12 straight Dual State Championships including titles in both categories last year. The Dragons are expected to win and in duals by a wide margin. However, that wasn't what happened when they met Toombs County in the semifinals of the Class AA GHSA State Duals. Jefferson won. But, the score was a close one- 47-34. The Bulldogs won six of the 14 matches with five by pins and they only yielded one pin. A pin is worth six points and a win by points is three or four depending upon the margin.
Erion Gaffney, J.D. Rogers, Jamar Smith, Eric Hester and Diego Lira all won their matches with a pin. Soloman McLeod was a winner by points.
The Bulldogs took care of business in the quarterfinals pinning eight Spencer wrestlers in a one-sided 57-18 victory. Smith was the first Bulldog to wrestle in the Centreplex and the junior pinned his opponent. Hester was next and he won a match in which his opponent was running from him and he was given six points- the same number you get for a pin. The lineup went back to the smaller weights and J.J. Arredondo won by a pin as did Justin Hall, Nathan Belch, Soloman McLeod, Jose Delgado and Rogers. Gaffney won his match 9-7.